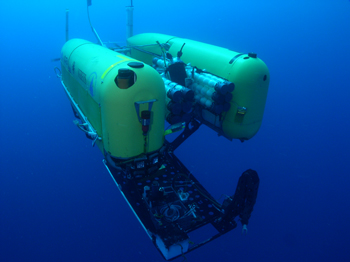 A deep-sea research sub has been lost in Kermadec Trench, one of the ocean's deepest spots, which lies northeast of New Zealand, media reports said Tuesday.
The unmanned robotic vessel, called Nereus, went missing on Saturday while exploring the Kermadec Trench. It was a flagship ocean explorer for the U.S. science community.
Surface debris was found, suggesting the 8 million dollar sub suffered a catastrophic implosion as a result of the immense pressures when it was operating some 10km down. The deep trench has pressures of about 16,000 pounds per square inch(psi).
"Nereus helped us explore places we have never seen before and ask questions we never thought to ask," said biologist Timothy Shank from the Woods Hole Oceanographic Institution, which managed the sub.
The robot was built in 2008 and could operate in an autonomous mode or remotely controlled via a tether to a support ship to explore the Earth's deepest oceanic trenches. The team is now collecting surface debris in hopes of revealing more about the implosion.
---
---