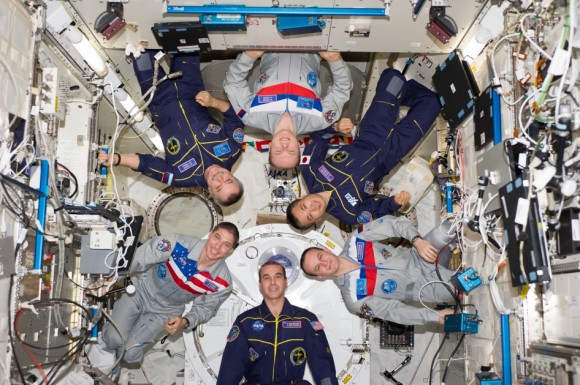 International Space Station (ISS)  is jointly operated by the U.S., Russia, Europe, Canada and Japan. Currently, there are three Russians, two Americans, and one Japanese astronaut on board the station currently orbiting earth. Roughly 250 miles below, however, the relationship between the two superpowers is a good deal different, with Vladimir Putin refusing to rule out using military force in Ukraine and the Obama administration accusing the Russians of creating a "pretext to invade."
The ever-increasing tension between the United States and Russia does not, according to NASA, extend to outer space, via the Washington Post:
"Everything is nominal right now with our relationship with the Russians," said NASA administrator Charles Bolden during a teleconference Tuesday. With the space shuttle retired, the U.S. relies on Russia's Soyuz spacecraft to get to and from the space station. Russia charges about $71 million per seat. There is no other way for American astronauts to get back to Earth.
Tuesday's teleconference was set up to allow Bolden to discuss the White House's Fiscal Year 2015 budget request, but he wound up fielding numerous inquiries from reporters about whether the Ukraine crisis has affected NASA's strategic planning. No, Bolden said repeatedly. He noted that past flare-ups between the U.S. and Russia have not affected operations in space. "We have weathered the storm through lots of contingencies here," Bolden said.
---
---