Posts Tagged Mark Lewellen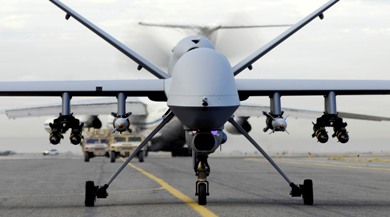 MQ-9 Reaper Taxis Down the Runway
ATI offers Unmanned Aircraft Systems (UAS) course
Worldwide commercial, government and military use of Unmanned Aircraft Systems (UAS) is expected to increase significantly in the future, placing unprecedented demands on scare radio resources. In fact, the Teal Group's 2009 market study estimates that UAS spending will almost double over the next decade, from current worldwide UAS expenditures of $4.4 billion annually to $8.7 billion within a decade
Will YOU need to learn more about this exciting field?
Applied Technology Institute (ATI) is pleased to announce their one-day short course on Unmanned Aircraft Systems (UAS). Since 1984, the Applied Technology Institute (ATI) has provided leading-edge public courses and onsite technical training to DoD and NASA personnel, as well as contractors.
With the practical knowledge you will gain from this course, you can recognize the different classes and types of UAVs, how to optimize their specific applications, how to evaluate and compare UAS capabilities, interact meaningfully with colleagues and master the UAS terminology.
Are UAVs coming to airspace near you?
Do you want to learn more about UAS but:
• Don't have time for a full semester course?
• Is the nearest campus all the way across town?
• Can't move to North Dakota for an undergrad degree in UAS?
If one or more of situations apply to you or you are just in need of more UAS-related knowledge, then boost your career with the information needed to provide better, faster, and cheaper solutions for your customers.
Why not take our UAS short course instead?
This one-day course is designed to help you keep your professional knowledge up-to-date on the use, regulation and development of these complex systems.
Course Outline, Samplers, and Notes
If you sign up for this class, whether you are a busy engineer, a technical expert or a project manager, you will enhance your understanding of these complex systems in a short time. Here is the instructor, Mr. Mark N. Lewellen, with an introduction to his class on YouTube.
Still not convinced?
Then please see our UAS Course Slide Sampler with actual course materials. After attending the course you will receive a full set of detailed notes from the class for future reference, as well as a certificate of completion. Please visit our website for more valuable information.
---
---
Whitefish resident and state senator Ryan Zinke thinks Montana is the right place to begin using "drone" unmanned aircraft technology for non-military purposes.
Following a year of coordination and organizing, several selected academic and research institutions within Montana have signed a collaborative agreement with Mississippi State University to jointly create an Unmanned Aircraft Systems (UAS) Center of Excellence.
Representatives from Montana State University-Bozeman, Montana State University-Northern and Rocky Mountain College-Billings signed the agreement at a kick-off ceremony in Bozeman on Dec. 1. Representatives from the UAS industry, Gov. Brian Schweitzer's Office of Economic Development, Sens. Max Baucus and Jon Tester, and Rep. Denny Rehberg were also in attendance.
UAS, also known as drone aircraft, have gained attention in recent years for their military use overseas and have emerged as a growing multi-billion dollar industry.
"UAS will transition from today's military-centric role to important civilian applications, such as research, farming and forest management," said Zinke, a co-director of the project. "UAS are ideal tools for conducting a vast array activities that are currently done by more expensive methods, such as satellite imagery or manned aircraft."
Examples include using spectrum analysis equipment to look at light reflecting off plants — agricultural crops or forests — to detect insect impacts or the need for watering or fertilizer. Farmers could save money by focusing efforts on smaller crop areas, Zinke said.
The same technology could be used to analyze snow depth, which would help electric companies more accurately assess future hydropower output and improve flooding forecasts. Drone aircraft could provide better information than satellites during cloudy days and beneath smoke from wildfires, helping fire crews pin down hot spots. Drone aircraft could also provide cell-phone coverage in mountainous or remote locations where cell phones don't work, Zinke said.
Montana has a unique opportunity to leverage its enormous airspace and become a hub of research, testing and development in an emerging industry, Zinke said.
"We're at the forefront of change in aviation technology with enormous potential to create the kinds of jobs we need in Montana," he said.
Flying drones outside of military-restricted airspace is a challenge and is tightly controlled by the FAA.
"We want to be part of the discussion on how to integrate UAS into the National Airspace System without impacting general aviation," Zinke said. "Montana contains the largest military operations airspace in the Lower 48 and is unique in having such diversity in climate, terrain and vegetation. Montana's airspace is the perfect environment to research how to safely integrate UAS with commercial and private air traffic."
Two sites near Lewistown could be used to base the project, Zinke said. The first test flight could occur near Lewistown by late summer next year. Initial testing could involve crop analysis or tracking cattle.
Montana State University-Northern has a satellite campus next to the Lewistown city airport, and the Western Transportation Institute has a facility and test track nearby. The city airport sees little activity now, Zinke noted, adding that it was used to base B-17 bombers during World War II.
The collaboration with Mississippi State University combines the assets of world-class programs in maritime and Gulf Coast research with MSU-Northern's biofuel program, Rocky Mountain College's accredited aviation program, and MSU-Bozeman's acclaimed Engineering Department. Together, the members of the project represent more than $400 million in research capability.
"This project combines the unique talents and capabilities of different academic and research institutions to form an unequaled UAS Center of Excellence partnership," said MSU-Northern's Dean of Technology, Greg Kegel, whose college will be in charge of administration and testing.
The goal of the project over the next few months will be to add industry and other institutions to the partnership and launch the first drone aircraft in summer 2011. Great Falls, Havre, Lewistown and Glasgow also are being considered as launching locations for the drones.
"I think we all are excited about the future of UAS in Montana and look forward to putting our resources and talents to work," Zinke said.
The Australian Research Centre for Aerospace Automation's (ARCAA) Smart Skies project, focusing on the development of technology to enable manned and unmanned aircraft to effectively share airspace, is approaching its final milestone.
The project, also involving Boeing Research and Technology-Australia, Insitu Pacific and the Queensland Government, is exploring development of three key enabling aviation technologies: an Automated Separation Management System capable of providing separation assurance in complex airspace environments; Sense and Act systems for manned and unmanned aircraft capable of collision avoidance of dynamic and static obstacles; and a Mobile Aircraft Tracking System (MATS) utilising a cost-effective radar and dependent surveillance systems.
The latest flight trials included all of the project elements, including a fixed-wing UAV and a modified Cessna flying in automatic mode, flying collision scenarios with simulated aircraft.
The final flight trial will take place in December this year, before project wrap-up and final reports in 2011, and, ultimately, the attempt to commercialise the Smart Skies intellectual property.
ARCAA acting director Dr Jonathon Roberts said a new research project was also on the cards. The collision-avoidance research is one of two key areas in which the Civil Aviation Safety Authority (CASA) requires proof that technology in unmanned aircraft can operate in a way equivalent to human pilots.
"In the future research we're trying to hit the next problem: Smart Skies is all about collision avoidance and managing the avoidance of collisions; the next thing that CASA will require will be automatic landing systems," Dr Roberts said. "So that if you have an engine failure or other catastrophic failure and you have to come down, you've got to be able to put it down in a safe place, so these will be vision systems that actually look at the ground and figure out where to land.
"That's the next thing that has to be done before UAVs can fly over populous areas."
The Smart Skies program was recently recognised at the Queensland Engineering Excellence Awards, where it won the 'Control systems, networks, information processing and telecommunications' category.